There are several benefits to private aircraft ownership: from optimising your time to increasing work productivity, travelling in comfort and privacy, and departing at your convenience.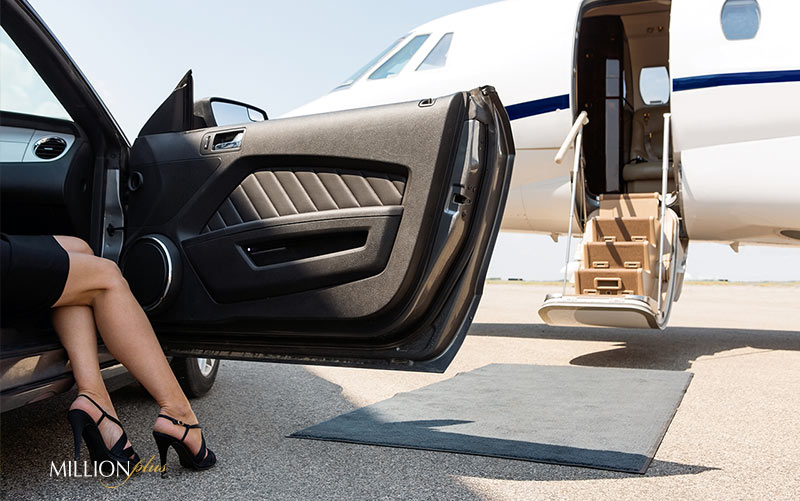 Of course, private flying has the extra attraction of stepping into the cockpit for keen flier-pilots.
For many, private jet ownership has an aspirational element. Naturally, selecting the right model, finance package (the best private jet finance option), and ownership agreement are essential to maximise the benefits and enjoyment when entering the world of private aviation.
When it comes to handing over your money, a proper assessment of the reasons for ownership, and the main purpose of flying private, are essential.
Table of contents
Flying private benefits. They add up to less time dedicated to travel and more time available for work and leisure.
Private charter flights immediately open up a wealth of additional destinations to fly to beyond the regular commercial airports. These new destinations typically include smaller airports, aerodromes, and airfields. For instance, Europe has around 500 commercial airports, but over 5,000 aerodromes. At this scale, having access to private air travel instantly opens the door to much greater accessibility.
The other benefit of increased destinations is that it equates to more time travelling in the air and less time travelling over land. This means that the majority of private plane journeys will be direct to the destination rather than touching down at a large commercial airport followed by a train or car journey.
Private flights give freedom of movement. The majority of cities do not have a flight pair (i.e. two urban centres sharing a commercial flight route). Smaller cities usually rely on their larger neighbours and airports for airborne traffic and travel. Flying commercial often results in business trips – even minor ones – becoming a longer, whole-day or overnight event.
By contrast, when flying privately the charter jet follows your itinerary. This means multiple destinations are feasible in a typical working day, and even being home in time for dinner. Personalised itineraries coupled with access to more destinations means travel time is significantly reduced and you are more often already at your destination location when you land.
Finally, commercial flights are scheduled whereas private charters are organised according to client requirements. Smaller airports and aerodromes have the added bonus of minimal wait times and rapid check-ins. Private airports are faster: low pre-boarding waits, less runway queuing, rapid transfers, and quick disembarking. It is common to arrive at the airport for private flights as little as ten minutes before departure.
All these benefits add up to less time dedicated to travel and more time available for work and leisure. The reasons many people choose to fly private are clear enough.
When to choose
PRIVATE AIR TRAVEL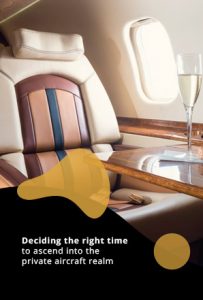 The majority of private plane ownership is for business purposes: 90 per cent of all privately-owned jets are used for commerce. For leaders and executives, this is a vital component of doing business where face-to-face contact is essential, such as in mergers and acquisitions.
For many, ownership is an aspirational goal, including owner-pilots and corporate clients. Private jet ownership often satisfies a passion for flying together with practical travel for business and pleasure.
When deciding the right time to ascend into the private aircraft realm, the key considerations are:
Travel purpose: solo for day-to-day business needs, or larger groups e.g. accommodating executives, board members, and partners on journeys
Average journey distance e.g. short day trips with less frequent long haul trips
Net worth and available funds (see below)
Plane size i.e. standing room, cabin crew, passenger capacity, washrooms, and minibars
Number of flying hours (150 hours a year is often the recommended minimum when choosing the outright ownership option)
Net worth and available funds are typically at the forefront of people's minds when seriously considering private aircraft ownership. Today, outright ownership is not the be all and end all way to fly private. There are several routes to getting in the air and each one caters to specific client requirements, including available finances. Used jets are a viable option to reduce outright expense. Fractional ownership, membership schemes, and jet cards give access to private air travel as and when required and are an increasingly popular choice among younger age groups. Furthermore, privately owned aircraft recoup a portion of expenses through chartering.
Additionally, flying private is not optional for some company executives, celebrities, billionaires, and millionaires. For instance, Apple chief executive Tim Cook always flies private because it is stipulated in his contractual agreement due – in part – to security precautions.
Time spent in the air is an equally important factor. Steve Varsano of the Jet Business, London explains that "if you're not flying 150 to 200 hours a year, you shouldn't buy [a jet]: you should just rent one, and we're the first to advocate this." The Jet Business, situated on Park Lane, is the world's first street-level corporate jet showroom.
Jet models and tailoring suitability. When it comes to the purpose of travel and individual needs bigger is not necessarily better.
Bigger is not necessarily better. When it comes to the purpose of travel and individual needs, larger jets inherently come with greater running costs and limitations on their destination airports. Smaller airports and aerodromes are often unavailable for large aircraft and this reduces passenger mobility.
Aircraft range is another essential factor. City-hopping across Europe two to three times a day for business doesn't demand a serious aircraft. Whereas greater distances and intercontinental long haul flights are achieved by larger, long-range jets.
Weight and carriage are another important consideration. Two or three people travelling with minimal luggage on daily business trips typically won't demand too much of a plane. The need to carry additional luggage and passengers will likely demand a larger model.
Overall, flying is always a compromise between weight and range (plus speed). For regular city-hopping around Europe, a jet with up to 6,000 kilometres range will probably suffice. For frequent travel beyond Europe's borders, jets with above 6,000km range are best suited. For travel to The Middle East and Asia, ranges from 9,000km to 12,000km are required.
A sales broker will help guide the buying process to meet your exact needs and suitability.
Finally, there is the cabin interior: arguably the most exciting part of purchasing a private aircraft. Here again, it is often a balance between convenience and luxury. The factors include in-flight connectivity, facilities, decor, colour schemes, and food e.g. luxury catering or packed lunches.
Furthermore, all bespoke designs and additions to the cabin must be certified and signed-off for flight suitability.
For example, the Learjet 70/ 75 by Bombardier Aerospace is a light business jet well-known among the private charter industry for its range, handling, and speed. It accommodates up to eight passengers up to 3,778km at 861 kilometres per hour making it a frequent best-choice for intracontinental journeys.
Inside, the Learjet cabin is 155 centimetres tall, has eight windows along each side with club-seating. Its facilities include a bathroom, heated baggage hold, and forward galley. For average height passengers in groups of up to eight, it is a well-suited and comfortable space to work and relax in.
Approximately, a Learjet 70 has a variable cost of $2,166 per flight hour and an annual fixed cost of $363,500. Roughly, 200 flight hours a year is $796,700 and 400 flight hours is $1,229,900.
New or pre-owned models. Which option suits your needs?
It is very common to purchase pre-owned jets. Many jet owners replace models every four to five years – much like their automobiles – as their needs and requirements change over time.
The benefits of buying brand new jet models are likewise similar to purchasing new cars. They are more efficient with greater range and superior speed, have better fuel efficiency, and the cabins are often more comfortable and luxurious with the latest conveniences and amenities.
Pre-owned jets are outright cheaper to purchase. However, they often clock up higher fees in maintenance and fuel costs (similarly to pre-owned cars). Furthermore, more frequent maintenance equals more ground time, and this can potentially conflict with strict schedules and short-notice arrangements.
Overall, jets do not depreciate over time in the same way that cars do; they remain in service for much longer as well. Over a decade, a jet will depreciate in value, but ten years is a fraction of their service life. It is common for jets to stay in service for 50 years, with the true plane age being calculated in flight hours. The average aircraft lifespan is around 50,000 flight hours. To illustrate, Bombardier manufactured Learjets between 1976 and 1993 and many pre-owned models still have considerable flight hours remaining.
The cost of purchasing a private jet outright varies greatly, from under $500,000 (€447,000/ £385,000) up to $90m (€80.5m/ £69m).
Pre-owned, a 15 to 18 year-old Beechcraft King Air B200 turboprop will likely sell for around $A Cessna Citation CJ2+ light jet will probably fetch up to $3.3m (€2.95m/ £2.54m). A Bombardier Global 5000 heavy jet will set you back about $25.9m (€23.15m/ £19.9m).
It is worth comparing the price of a private aircraft to the accumulated cost of frequent first-class travel on commercial flights. London to New York is on average $7,800 (€6,970/ £6,000) a seat. When weighed against frequent travel, flying private starts to look more economical and convenient, especially for business use. This is before all of the added benefits are thrown in too.
Additionally, private jets can create their own economy to help offset some of the overhead costs. Private jets can be chartered and this is particularly useful for those who fly less than 150 hours a year and don't require frequent and short-notice access to their aircraft. Renting your jet will help offset costs, but it won't eliminate them completely.
Fractional ownership, membership schemes, and jet cards
Companies have spotted a gap in the market where individuals no longer wish to travel first-class, but can't justify outright private aircraft ownership. Membership schemes position their pricing model at about that of a first-class airfare and include the convenience that private chartered flying provides. According to figures from Jetnet, private chartered jets account for 51 per cent of all private jet flights in Europe.
Air Charter Service provides membership schemes to its clients. Ashcroft Priority One and Jumpjet, which is based in the US, are other companies that provide access to private charter flights. They typically cost $1,500 (€1,340/ £1,154) a month.
Membership schemes also offer their clients a range of jet models to suit their purposes. For example, clients can charter a small piston propellor five-seater Piper PA-34 Seneca for short leisure journeys (such as London to Bath) for around $2,000 (€1,800/ £1,500). Then, to fly business from London to Paris with the whole team, a luxurious Challenger 850 can be hired for about $29,000 (€26,000/ £22,3000). Private jet owners lack this flexibility unless they are members of charter schemes as well.
Reputable operators and private plane management companies assist their clients in establishing comprehensive one to five-year budgets and operation plans. For a fee, they handle everything from recruiting staff to training.
Some private jet owners prefer to be more involved in the operations and hangarage processes, choosing to handle these aspects themselves. However, it is more common to outsource these requirements for simplicity and time efficiency.
To conclude
Deciding to enter the world of private flying requires careful consideration. For those who fly frequently, it will be an attractive option to maximise time, especially when working.
Flying private for business gives the opportunity to expand client-bases, particularly internationally. Furthermore, it makes sense if you find yourself in an industry where face-to-face contact is a necessity for good business practice.
The majority of people who choose to fly private opt for multiple options. It is not uncommon for an individual to own a smaller aircraft model and also have a membership scheme subscription.
For instance, city-hopping in your privately-owned (and commercialised for-hire) light aircraft for day-to-day business commitments. Then, hiring a Boeing 787-800 Dreamliner via your flying scheme for the occasional and luxurious long-distance venture to leisure destinations worldwide.