Million Plus speaks with Edward Thomas, an expert in luxury marine gyms, to find out how yacht design has evolved. Edward underscores the importance of being in touch with your physicality and mastering the art of mindfulness in a busy world.
Superyachts feature some of the most meticulously planned luxury designs in the world. The finest superyacht gyms are aesthetically beautiful and could entice even the most slovenly of souls to work out. Clients' astronomic budgets facilitate the pursuit of merging functionality and form. Marine gyms are a huge part of superyacht owners' lifestyles, and with mindfulness and fitness becoming a prevalent theme in our culture, gym design has become one of the key focuses of yacht design.
Yacht owners can reach the upper realms of mindfulness, stretching on the sundeck at sunrise, with bi-fold doors blasting open, engulfed by the tropical oceans. Being present in the moment, with their full attention, undistracted by any external noises or influences is key. Mindfulness can spur the growth of areas of the brain linked with emotional regulation. In a modern world where mental health problems are on the rise, mindfulness can help us counteract some emotional build-up early on and let things go.
Superyacht gym designs are fully immersive and offer deep integration with the outdoors. Gyms have become a key focus for yacht owners, due to the rise of a younger demographic of yacht owners. They are more likely to rise at dawn to practise yoga, drink green juice and read self-improvement books than eat caviar and steak, then party until sunrise.
Edward Thomas, Director & Founder of Gym Marine Yachts is a recognised expert in luxury gym design in superyacht circles. When Edward was working as a yachtsman, a Bosun in more specific terms and his pioneering spirit enabled him to see a demand in the market for well-designed gyms.
Historically, pleasure vessels are centred towards wining and dining guests, sunbathing and partying. However, over time our definition of the word 'pleasure' has been redefined and incorporating spaces that are conducive to practising mindfulness and keeping fit is the yacht owners primary objective, particularly when using a vessel as a long-term staycation. Taking care of yourself on a boat is integral for your mental health. It can be a solitary life at sea.
Physical activity has a huge potential to enhance our wellbeing. Even a short burst of 10 minutes' brisk walking on the deck can increase our mental alertness, energy and mood. Participation in regular physical activity can boost self-esteem and reduce stress and anxiety.
Key Considerations for Superyacht Gyms
Yacht designers are working hard to refashion traditional gym area concepts to incorporate incredible leisure spaces at the waterline. The proximate relationship with water and hearing the sound of the waves is calming, providing a sensory experience. When we are near water there is deep biological connection which triggers an immediate response in our brains. The mere sight and sound of water can induce a flood of neurochemicals that promote wellness, increase blood flow to the brain and heart and induce relaxation.
Another prime position for gym areas is the sundeck, which serves as a tranquil spot to meditate, stretch, relax and unwind. The sun provides guests with a healthy dose of vitamin D, vital for regulating the absorption of calcium and phosphorus, and facilitating normal immune system function. Typically, superyacht owners dedicate an entire deck to wellness. The gyms often open up onto a treatment suite, ice bath, spas, saunas, mediation rooms and entire beach clubs.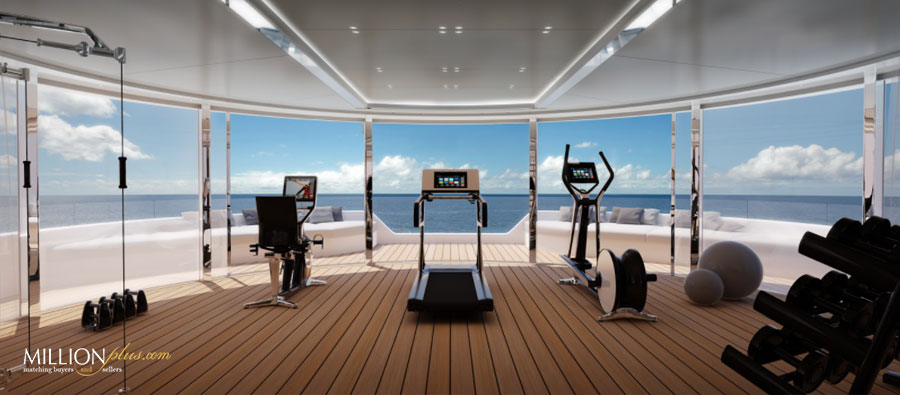 Gym Marine designs are bespoke for yacht owners and meticulously designed for ease of comfort. The height of family members using the gym is measured to ensure the ceiling and equipment are positioned correctly. Gym designers are careful not to overcrowd the gym, yacht owners shouldn't feel that they are in a 'busy' space. Gym Marine aims to fill the gym up to 75% capacity, leaving the rest of the area to fill with the next 'latest trends' because their clients hanker after the latest products. While the owners are on land, they often source the latest cutting-edge equipment and then request to mirror those products on the yacht. Yacht gyms typically undergo a refit every few years, providing an opportunity to refresh the equipment and layout.
When Gym Marine designs for a charter boat, the scope for equipment is far broader, therefore hiring equipment is the easy solution, providing a flexible gym space. Gym Marine can tailor the gym equipment for each charter on board.
Gym Equipment Meets Luxury Design
A new market for ultra-luxury equipment has redefined the form of traditional tools, manipulating the proportions to produce geometrically shaped products. Brands such as Technogym, Pent, and NOHrD have released gym equipment lines which embody all aspects of functionality, design and sustainable manufacturing. Some products look so beautiful, that when lined up against a wall and could easily be mistaken as an exquisite piece of furniture or a sculpture taken from the Tate modern. For example, walnut and brass dumbbells curated by artisans are now available to buy. The aesthetic is ultra-sleek, minimal and entirely unrecognisable.
Customisation is Key
Gym Marine has recently launched their gym equipment GM Custom, including producing 'anti-roll' dumbbells in teak wood. Some equipment enables yacht owners to customise a bespoke logo, which is popular, a personalised logo can also be featured on towels, apparel, and water bottles. Even fitness consoles with interactive touchscreen programmes can be customised to feature yacht owner's favourite apps and entertainment.

Superyacht Gyms are Unrivalled
Even some of the most prestigious gyms in the world, with unlimited design budgets and access to the most highly regarded interior designs, struggle to meet the gym standards that superyachts provide. Firstly, the experience of working out in the hotel gym means that the equipment is not tailored for the user, and a large proportion of the equipment will not be touched. The best views in hotels are saved for the bars and restaurants. Superyachts provide a sense of remoteness and a connection to the outside that is unattainable in most hotels.

Another benefit to using a yacht gym is the sense of privacy. The remoteness of a superyacht is a central attraction that never ceases to invite new owners to become part of the club.
Are you considering a luxury yacht purchase? To enquire about financing a yacht call Million Plus now on 02075194950 and speak to an expert.

Alternatively, send us an email with your enquiry to info@millionplus.com