As Summer is now upon us, we showcase some of our favourite yachts from our collection. Whether you crave the thrill of racing, enjoy the refinement of luxury or simply want to drop anchor and lie on the deck, MillionPlus.com has you covered.
All our yachts come from trusted partners and should you require finance, MillionPlus.com can help you. Enquire here.
Take a look at our full selection of luxury yachts, at MillionPlus.com yachts
Sail away in incredible style
Mariquita is one of the most iconic yachts in the history of the sport and her career spanning over a century is one of the great maritime stories.
After over five decades as a houseboat, her future was in doubt until she was saved in 1991. Ten years later the painstaking task of restoring her to racing condition was started. Though her spars and lead keel were lost, her fabulous original interior remained. It took 3 years at Fairlie Restorations to restore the yacht to match the original structural requirements of the class. She was rebuilt to Lloyd's Register and to her 1912 configuration which provided some speed enhancement over the initial design of 1911.
No Longer Available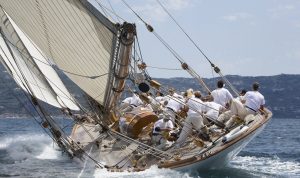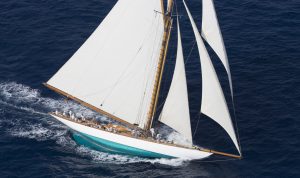 SHENANDOAH is perhaps the most famous and desirable of all the classic yachts afloat today.
She combines all the attributes that make a yacht great – beauty, comfort and speed. After the chequered history that so many of her sisters have also lived through, SHENANDOAH is now enjoying the finest days in her long life, with an excellent owner, captain and crew looking after her every need.
Available here!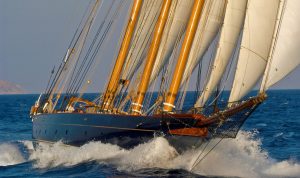 Enjoy the luxury of a super yacht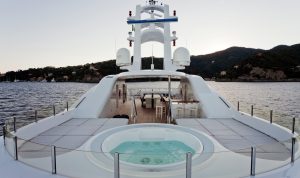 At almost 900GT, BARAKA is a truly magnificent yacht. Designed by Francesco Paszkowski, she is typical of his Italian sense of style and moment.
As the inaugural full custom build from Turquoise, this handsome yacht still delivers an impressive set of attributes. Proof of the yacht's prowess and pedigree comes from her record as a finalist at both the Showboats and World Superyacht awards for naval architecture.
Available here!
Twin Caterpillar 2,040 HP engines can drive the 46Steel luxury yacht Achilles to the top speed of 17 knots and a cruising speed of 15 knots.
Available here!
One of the finest examples of modern, minimalist superyacht design on the water today, the award-winning SEXY FISH is offered for sale in as-new condition.
Enquire here
And for the truly immersive experience …
Migaloo Private Submersible Yachts offer the world's first private submersible super yachts – the first alternative to super & mega yachts with the benefit of submerging the whole yacht.
Ultimate freedom and privacy during travelling or staying at anchor, having all amenities of a common yacht of equal size. In addition, on passages with rough seas, calm & safe travelling is possible (while submerged)!
Available here!