Monaco is known for its superlative events. The independent city-state on France's Mediterranean coast, is the epicenter for finance, billionaires, glamour, and superyachts. The Monaco Yacht Show (MYS) is the world's leading yacht show when it comes to superyachts.
Monaco Yacht Show (MYS) 2021
22 September – 25 September 2021
Monaco Yacht Show (MYS) – MillionPlus
Port Hercule, Monaco, will be home to over $4.3 billion worth of yachts and superyachts this year. The world's leading yacht show in Monte Carlo is one of the chicest ways for billionaires to wind down at the end of summer in Europe in a fitting setting.
High Net Worth Individuals, Ultra High Net Worth individuals, members of the richest families and decision makers for the richest people, will gather again this year in Monte Carlo to view and buy the biggest, newest, most innovative and of course the most expensive superyachts.
But not only superyachts can be admired, also super speedboats, helicopters, personal submarines, limousines, luxury cars, supercars and rare classic cars are waiting for the world's largest business and billionaire network in Monaco around Port Hercule.
The MYS
Held in September at the legendary Port Hercule, the MYS has been the pinnacle of superyacht life against the glamorous backdrop of Monaco since 1991. Each year, the world's most prestigious shipyards showcase exceptional and unique superyachts, and many new releases and world premieres, take place here. The Yacht Show is dedicated primarily to first-class boating and yachting, with Ultra High Net Worth Individuals, and professionals from the superyacht world and high-end luxury sector in attendance.
Millionplus.com – Paul Welch
We are the leading platform for financing, selling and insuring assets of one million euros or more, and our founder Paul Welch understands the importance of the world's unique, and leading exhibition, for superyachts and high-end luxury products in Monaco.
That is why Paul Welch is a recognized specialist for Ultra High Net Worth Individuals and a financial expert and specialist when it comes to multimillion dollar sales and financing. He has been attending the Monaco Yacht Show for decades to personally advise and assist his billionaire clientele on site.
If you have questions or want to buy or finance a yacht and/or other luxury goods starting from one million euros and want to experience an uncomplicated transaction, then you can happily turn to us for assistance.
Paul Welch will be happy to help you with his wealth of experience, whether you are looking for luxury cars, yachts, helicopters, private jets, real estate, or art, or simply a loan, because sometimes, it makes sense to carry out financing with a respectable and completely independent service provider like Millionplus.com.
If you are interested in the following mega yachts or any other superyachts, just talk to Paul Welch.
Megayachts for sale
ALTAVITA – dream yacht
ALTAVITA was built by Gulf Craft from the United Arab Emirates. The exterior is from the shipyard and the tasteful, modern interior is from Nina Seirafi Design. The yacht is from the shipyard's highly successful Majesty 125 series.
The modern design, the generosity of the layout, the spacious sundeck, and the fine furnishings, make the yacht something very special.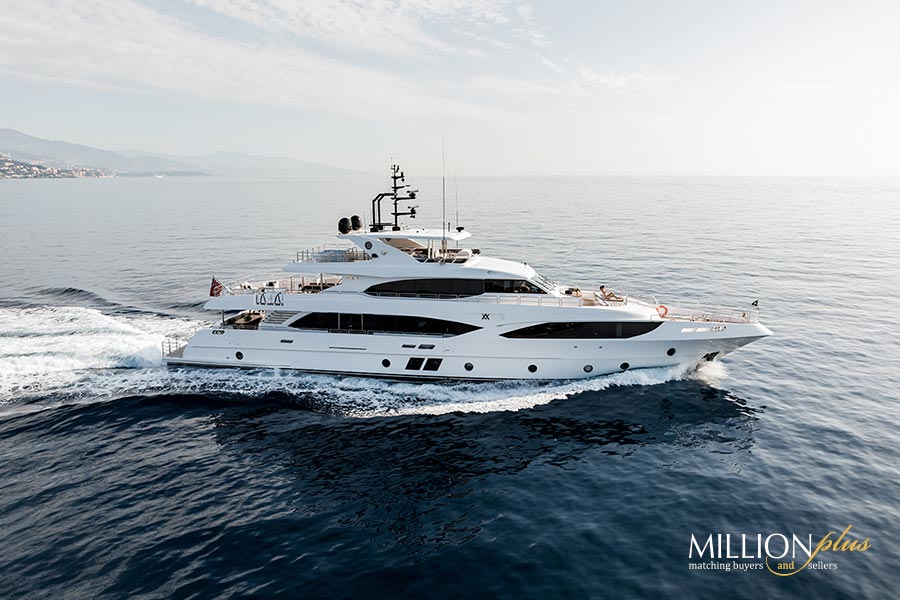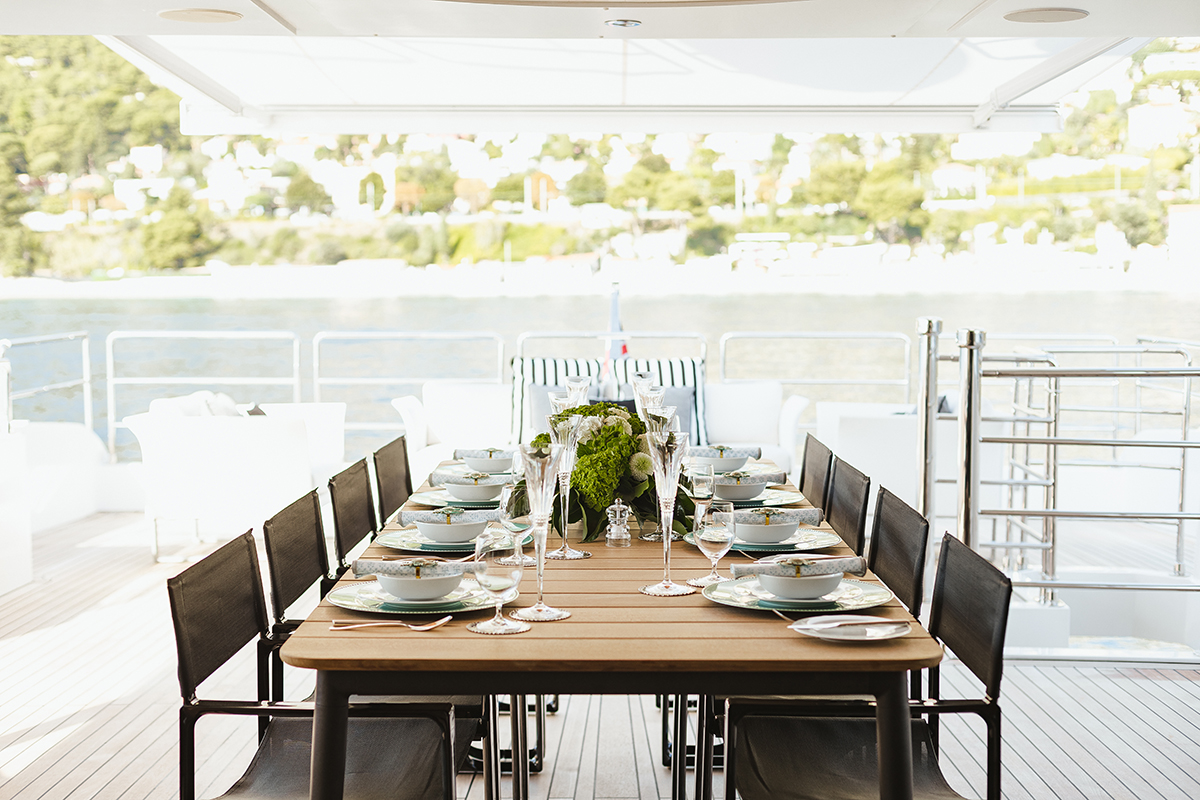 The yacht accommodates up to 12 guests in five cabins. The full-width master suite is located forward on the main deck and features large picture windows, an en suite bathroom, walk-in closet and separate living area.
On the lower deck, two VIP double suites and two twin cabins, each with an additional sleeper sofa, complete the family-friendly accommodation.
The ALTAVITA is 34.4 meters long. Powered by twin 1,902-hp Caterpillar engines, the ALTAVITA can reach a cruising speed of 10-12 knots and a top speed of 19 knots with a range of 1,100 nautical miles.
For more information, contact Paul Welch at millionplus.com.
Email: info@millionplus.com
Main exhibition venues on site in Monaco
The Car Deck – Here you will find supercars, luxury cars and classic cars, as well as worldwide unique pieces on 4 wheels.
The Starboard – The Starboard is the most important lounge at the show for companies that want to showcase their high-end luxury products and services related to the superyacht lifestyle.
Quai Antoine 1er – Quai Antoine 1er showcases destinations for High Net Worth Individuals and Ultra High Net Worth Individuals, as well as other luxury products.
The Monaco Yacht Summit, unique in the world
This Summit was created so that the yacht industry and yacht owners, can expand their know-how and make valuable contacts. The format is a panel discussion where industry experts from the superyacht industry can present their professional knowledge and latest findings from the industry and discuss them with industry experts.
Participation is open exclusively to yacht owners, employees of charter companies, potential yacht buyers or their representatives, and independent asset managers.
Photo Credit MYS
Access to the yacht show
The Monaco Yacht Show is very well organized. The aim is to categorize the individual visitors right from the start, so that the right contacts can be found right away. For this purpose, a 3-category system has been introduced.
For those who book a classic one-day or multi-day ticket, an appointment is required from a participating exhibitor. In this way, the organizer wants to ensure that only potentially interested parties or buyers have access to this high-profile event.
VIP tickets
It is also possible to get a VIP ticket. With this ticket you get exclusive access, further VIP benefits and a personal car with driver, which the MYS puts at your disposal. You can use this car inside Monaco to get more easily to the different areas and events.
However, these tickets are limited to 200 and most requests are not approved.
VIP and yacht parties
Since the Monaco Yacht Show is one of the world's most high-profile events, it is usually not possible for you to visit an exquisite superyacht or go to one of the numerous VIP and VIP yacht parties that take place during the Monaco Yacht Show without an invitation.
It is worth checking in advance or feel free to contact Paul Welch, who can look to provide access for you.
Contact us today!
Paul Welch
info@millionplus.com